---
Junior Session
Parents of juniors should have already received an email about the upcoming Junior Sessions for 2021.
If you haven't responded to the email yet, you still have some time to sign up.
Junior Sessions for 2021 will be held on: TBC
Sunday  ?? June 
Sunday  ?? July
Sunday  ?? August
 They will be held on Sunday afternoons from 2-4pm.
More information will be sent out to those taking part nearer the first session.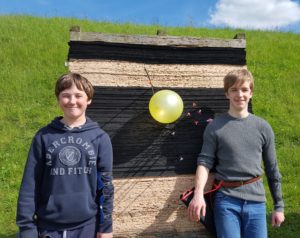 The Balloon won
[slideshow id=22 w=300 h=400]
Photo Credit: Nadine Radbourne
[slideshow id=26]
Nonsuch Field Shoot in June 2016
Photo Credit: Nadine Radbourne
---
Congratulations to Sam for his outstanding shooting at the 2015 Senior Surrey County Championships. Sam set a new U16 Gents Compound club record for the Ladies WA1440, whilst achieving his first Junior Bowman score!
Click here for full results of the Surrey Archery Weekend and here for the full results of the Surrey Junior Championships which took place in June.
---
Nonsuch had two junior archers competing in this years Sheila Brown Memorial Shoot, and both deserve recognition for their achievements at the shoot. Congratulations to:
Osbourne: Achieved his Black Rose Award (Compound)
Cameron: Achieved his White Rose Award (Recurve)
Congratulations Boys!
---
On the 13th June 2015, a team of Nonsuch juniors headed to Chessington Bowmen to take part in their "Junior Team Shoot". The shoot is held in memory of Jason Grifiths (a Level 1 Coach, who did a great deal for their junior archers), and at the start of the shoot, each team captain shot a whistling arrow as a tribute to him (a video of which, can be found here).
The event itself was very different to most archery competitions, as archers were shooting to London Youth Games rules and were not in their usual Archery GB age categories. Team results can be found here and the Individual results for the day can be accessed here.
Competing for The Nonsuch Bowmen Junior Team was: Robbie, Cameron, Osborne and Flynn 
Unfortunately, we didn't win anything, but the boys came 5th which isn't too bad – especially given the fact we had one compound archer shooting recurve!
Well Done Boys, a great effort!
---
Saturday 6th June 2015 played host to Surrey's first junior only County Championships! The event was well attended, and for many juniors (including one of our own) it was their first record status competition. From Nonsuch we had two juniors competing, and both did incredibly well! Congratulations to:
Robbie: Recurve Junior Gents U16 County Champion
Cameron: achieved his 700 English Cross and won the U16 Lady Paramount prize
Hopefully next year we will see more Nonsuch juniors at the competition! Congratulations boys, and thank you to the members who drove down to show the boys some support!
---
We were a bit thin on the ground for our final Frostbite match of the season this month, but with the 2 juniors who did take part, we managed to get what is one of our best team scores! The March Junior Frostbite team consists of Robbie  (who scored 312!) and Cameron  (who scored 205!), well done to both boys!
We also have a junior compound archer who made our BA compound B team this month, so a further well done to Sam  (who scored 277!).
Well done to all who shot! Provided we win this months match, we'll have won our division for the season! So fingers crossed! Full results of the Winter Postal Leagues can be found here.
---
---
A few of our juniors braved the cold, windy and wet weather to shoot Archery GB's November Challenge last year, and it seems their efforts have payed off as they have ranked quite well in the results! Congratulations to the following:
Cameron : Recurve Boys U16, 28th place
Os : Recurve Boys U16, 67th place
Robbie : Recurve Boys U14, 11th place
Sam : Recurve Boys U12, 64th place
Aleesha : Recurve Girls U12, 48th place
Sam : Compound Boys U16, 11th place
Really well done to all of you, and we'll see if we can top that this year! If you'd like to view the results for yourself, you can see them here.
---
Saturday 10th January 2015 left us feeling the cold, but we soon warmed up in the club house where some trophies and certificates were awarded! Congratulations to:
Robbie: Silver Arrow Award & Archery GB Junior National Rankings Certificate
Sam: Archery GB Junior National Rankings Certificate
Congratulations to both Sam and Robbie on their achievements! We are still awaiting the results of the November Challenge, but in the meantime, lets see how many more juniors we can get onto the Rankings in 2015!