Team Nonsuch took part in the Surrey Archery competition at Rivernook.
Saturday we enjoyed some glorious weather and shot a double WA 70 qualifying round and then head to head rounds in the afternoon – unfortunately we were all eliminated before the finals.
The Sunday shoot consisted of the full FITA WA1440 round, despite some appalling weather we all enjoyed the day & representing the club were:
Linda, Les, Amie, David, Richard, Jane & Harry.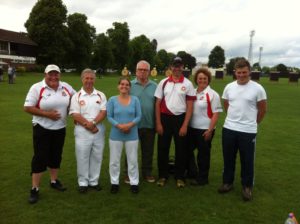 Thanks also to the club members that turned up to wish us well in the afternoons: David, John, Martin, Nadine & Julie plus Barry& Maxine Holland , who were helping out at Rivernook on Saturday morning.